5 Year Warranty
The Classic Flag Pole is 100% Made in the U.S.A.
Professionally Tested to withstand winds up to 130MPH. Equivalent to an F-4 Hurricane!

Available in Polished Aluminum or Powdered Coated White Finish

The Classic Flag pole is the traditional sectional pole with halyard (rope) and truck (pulley) used to raise and lower the flag.
The Classic is available in 3 heights: 13', 17' & 21'
The kit contains 3, 4 or 5 pole sections of 56" each, depending on the height of the pole. These sections appear seamless as they neatly fit together for a smooth look. Each section is 2" in diameter made of 16 gauge aluminum & features 5.75" of swaging (the section of pole that slides into next section) which is 1.5" deeper than most other sectional poles on the market. This superior feature ensures added strength and durability under tough weather conditions.
Each Classic pole kit contains:
Rust-Free 16 gauge polished aluminum or powdered coated white pole sections
Pole Sections are 2" in diameter with 5.75" of swaging
Installed truck (pulley system) w/Nylon rope & riveted cleat (center of cleat is 36" from ground)
Aluminum ground sleeve
Nylon American flag with sewn stripes & embroidered stars
Gold anodized aluminum ball pole topper
Installation instructions
5 Year Limited Warranty:
Our Flagpoles & Mounts have been tested and approved to withstand wind speeds as high as 130 mph. We provide a LIMITED 5-YEAR WARRANTY on all our in-ground flagpoles & mounts which covers damage and/or replacement costs for poles and mounts damaged as a direct result of wind gusts up to 50 mph. For safety reasons – we strongly advise customers to lower poles in instances where wind speeds exceed or are expected to exceed 50 mph.
Optional Mounting Hardware to take your Flagpole anywhere.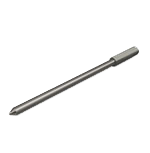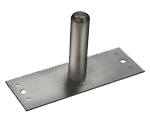 Customers Also Viewed These Items...