The Classic Halyard Style Flagpole-Made in USA
SKU:

C21

Shipping:

Calculated at Checkout
5 Year Warranty
The 13' to 21' Classic Flagpole is 100% Made in the U.S.A.
Free Shipping in the U.S.A.

Silver Polished Aluminum

The Classic Flagpole is the traditional sectional pole with halyard (rope) and truck (pulley) used to raise and lower the flag.
Take the guess work out of what height to purchase.
You customize the height: 13', 17' or 21'
The kit contains 5 pole sections of 56" each giving you the option of having a 13', 17' or 21' pole. These sections appear seamless as they neatly fit together for a smooth look. Each section is 2" in diameter & features 5.75" of swagging (the section of pole that slides into the next section) which is 1.5" deeper than most other sectional poles on the market. This superior feature ensures added strength and durability.

Each Classic pole kit contains:
3'x5' Nylon American flag

with sewn stripes & embroidered stars

Rust-Free16 gauge (wall thickness .058) silver polished aluminum pole sections

Pole Sections are 2" in diameter with 5.75" of swagging

Installed truck (pulley system) w/Nylon rope & riveted cleat (center of cleat is 36" from ground)

Aluminum ground sleeve

Fly 2 flags: Includes 2 pairs of clips

Gold anodized aluminum ball pole ornament

Optional: Titan Solar Disc Light, Made in the U.S.A. more info HERE.
The American Flag must be lit when flying at night in accordance with U.S. Flag Code.
5 Year Limited Warranty:
We offer a 5 year warranty on the structure, workmanship and hardware of your American made flagpole.
This warranty does not cover failures due to improper installation, improper use of locking mechanisms, misapplication, natural disasters or damage caused by accident, collision or vandalism. The flag and rope are not covered under this warranty.
Any damage due to shipping must be reported immediately to the common carrier.
Damages caused flying a flag larger than the recommended maximum size also can void this warranty.
Under no circumstance does this warranty cover the cost of installation, removal, transportation or any other consequential damages.
Optional Hardware mounting systems.
Ground Spike Mount: For Complete portability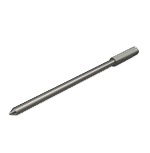 3-in1 Mount: For deck, dock, or at an event by parking your car on mounting plate